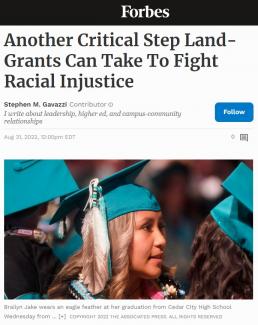 Last year, Inside Higher Ed published an opinion piece on two major steps that predominantly white serving institutions (PWI) land-grant universities should take in the fight against antiracism. As a first step, and largely in response to the "Land Grab Universities Report," the PWI land-grant universities were called upon both to acknowledge the fact they were established through the sale of territories seized from Indigenous peoples and to initiate a process whereby some form of restitution could be enacted for present-day Native Americans. The second step surrounded an appeal for these same PWI land-grant universities to form more meaningful partnerships with their sister historically Black land-grant universities, including more collaboration among extension services personnel and more substantial teaching and research connections among academic departments.
Although these twin steps are easier said than done, they represent the minimum of what should be done if PWI land-grant universities are to be taken seriously in their claims to be invested in diversity, equity, and inclusion activities. And yet, there is at least one more step that these universities also must take to realize more fully their antiracist mission, and that sort of action surrounds the need to develop partnerships with their sister Tribal College land-grant institutions.
These Tribal Colleges were established as the result of the 1994 Equity in Educational Land-Grant Status Act, which is why these institutions are sometimes referred to as the 1994 land-grants. In turn, the historically Black land-grant universities also are known as the 1890 land-grants owing to the passage of the Morrill Act of 1890. Rounding out the picture, the 1862 Morrill Act gives the PWI land-grant universities their alternate name: the 1862 land-grants.
The funding disparities between the 1862 and 1890 land-grants have been well-documented, as has the even greater plight of funding regarding the 1994 land-grants. Funding outlays at the federal level paint a startling picture of resource imbalances. In general, for every $100 in financial support received by 1862 land-grants, the 1890 land-grants receive about $10, while the 1994 land-grants receive little more than $1. That is not a typo. The ratio of funding is 100:10:1.
This sort of ongoing financial inequality is staggering and serves to keep the 1862 land-grants so much better off than the 1890 and (especially) the 1994 land-grants. Clearly, the PWI land-grants must break their silence about these disparities and lobby on behalf of their sister land-grant institutions. As noted in the earlier Inside Higher Ed opinion piece: "The level of seriousness on this issue should be underscored by the PWIs making a pledge that, in the absence of funding, they will give up some of their match to make things more equitable for the HBCUs. This is what walking the walk looks like when you get past all the blather." Obviously, this sort of lobbying should be extended to the funding plight of the 1994 land-grants as well.
Axiomatically, the previous call for increased 1890-1862 collaborations now should be extended to include a focus on the development and strengthening of 1994-1862 partnerships. Such partnerships long have been portrayed as mutually beneficial in that researchers and practitioners working for 1862 land-grant universities often seek work inside of tribal communities, and the 1994 land-grants have all the right connections and knowledge base by which to make those interactions happen.
Providentially, recent scholarship has pointed the way toward exactly those sorts of activities. While interviews with leaders of the 1994 land-grants indicated that outreach and engagement efforts to the 1994 land-grants by the 1862 land-grants to date have been "sporadic" at best, nonetheless the combination of a pandemic, increased consciousness of the "land grab" historical framework, current unrest related to racial injustice, and growing awareness of funding disparities together only now may be creating an "ideal inflection point" for such partnerships to flourish.
A recent conference grant from the National Institute for Food and Agriculture (part of USDA) has allowed for extra day to be added to the 2022 FALCON conference in support of these partnership efforts. More specifically, on October 24th as many as 100 faculty, staff, and students from both the 1994 and 1862 land-grants will be coming together to expand ongoing dialogue about the collaboration of their institutions in the areas of teaching, research, and community engagement. Additionally, the North Central Regional Center for Rural Development has provided additional funding in support of efforts to catalogue past and present 1994-1862 land-grant partnerships. The aim here is to develop a national clearinghouse on information related to such collaborations (eventually bringing 1890-1862 partnerships into focus as well).
The involvement of collaborators on this Land-Grant Partners Project is both broad and deep and includes a variety of national and regional organizations. Clearly, there is an emerging consensus that the timing is exactly right for these sorts of activities. Quoting one last time from last year's Inside Higher Ed opinion piece, "if PWI land-grant universities are serious about taking some sort of action on the antiracism front, they need to do something concrete. Otherwise, it is just more of the same idle chatter that has been going on for a very long time." One year later, cautious optimism is in order as evidence begins to accumulate regarding the solid and meaningful steps (finally) being taken to address longstanding injustices.